Safest mulch for playgrounds
With over 200,000 playground injuries a year, fall protection is needed more than ever. Rainbow Mulch is the safest playground mulch with ASTM test of 3" for 20 ft. fall.
Get A Quote
Clean, soft + spongy fun
Enjoyable play time is essential for children's development. Choose a surface that protects, feels great, and is interactive. Rainbow Mulch is 100% tire free and non toxic.
Try a Free Sample
Creat a modern play space
Playground surfacing should never be an afterthought. It's just as important as the playground structure. Invest in a modern playground surface that performs & protects.
Learn Why Tire Free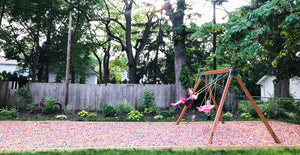 Pet, plant + kid friendly.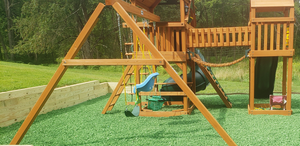 Schools, Churches, & Daycares
No tire, wire or paint — non-toxic and residue free
Durable, spongy landings + lasts several years
Does not attract bugs, mold, mildew or fungus
Safety-rated for 20-ft, meets ASTM standards, FDA compliant
Won't absorb water, won't blow away in strong winds
Easy to install and available in more than 10 colors